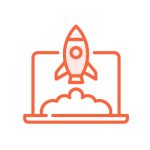 Full Website Backup
Image Optimization
Combine CSS & JS Files
Deep Security Scan
Theme Optimization
Remove Unused Code
Website Speed Optimization
1. Premium Plugin
We'll install the best caching plugin.
2. Configure & Optimized
Optimize images, Content, Java Script, Html OR Css Minify.
3. Launch
Enjoy an improved user experience with a faster website.
Note**
This offer is only for wordpress website, If you have any other CMS website please contact before place the order thank you.
Check your current website performance here:
https://gtmetrix.com/
FAQ
Should I use a CDN (Content Delivery Network)?
If your website visitors come from all corners of the world, then we recommend that you use a CDN to enhance the delivery of your site's assets. However, for local businesses with audiences limited to one country, a CDN might not be necessary. In this case, a reliable hosting company and a well-optimized website should be more than enough.